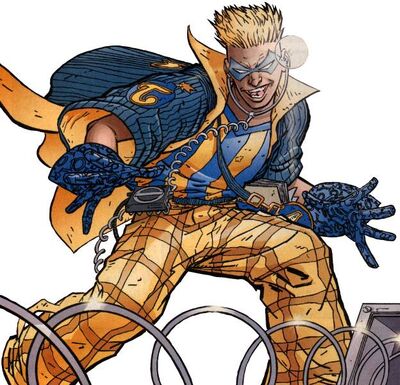 Axel Walker comes from a broken home, he lived with his dad who told him that the world was split between two categories of people, the people who trick and the people who get tricked, he realised that he had been tricked by his dad. He finally got his fifteen minutes of fame when he dropped out of high school, he was taken under the wings of Blacksmith, who helped him steal the equipment of James Jesse.
The family of James Jesse was involved in the trapeze business; They  were all amazing at their job but James was scared of falling, so he created Air walker shoes to help him slowly float down if he fell; Realising that if he could make more clever gadgets he could become a thief.
Ad blocker interference detected!
Wikia is a free-to-use site that makes money from advertising. We have a modified experience for viewers using ad blockers

Wikia is not accessible if you've made further modifications. Remove the custom ad blocker rule(s) and the page will load as expected.